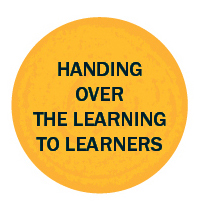 Section contents:
Managing one's own learning process prompts the responsibility for one's learning success. Let's give our students an opportunity to take over the responsibility for their success. On their path of independent learning, they need a teacher, who dare turn learning over into their hands.
Did you mentor and tutor your students on their path of independent and responsible learning? Did you make use of the technology, which assisted you in developing students' responsibility for their own learning? Did you make use of the power of the "outside social world" to encourage independence and taking over the responsibility for their learning? If the answer is yes, then this theme section is the right choice for you.
Presentation form: educational start-up  
On several spots in the hall, three rounds of presentations will take place. In each presentation the author and co-author will have 15 minutes available: 10 mins for the contents and 5 mins for the discussion. The presentation should be innovative and should engage the audience. Launch your "presentation campaign" already before the conference on Twitter (#podjetnost) and Facebook, where you can invite participants to your presentation.