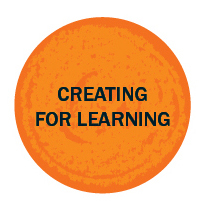 Section contents:
Students use applications, games, e-environments, tools, etc. on a daily base. But they do not use them only to play, they also use them for learning. Let's make use of their knowledge and give them an opportunity to co-create the learning process by using and creating their own
tools (applications, games, etc.)
environments (physical, virtual)
activities (tasks, preparing a lesson, etc.)
learning materials.
Do you have any experience with "switching" the roles so that your students planned and co-designed a lesson supported by ICT? We are inviting you to share your experience in our creative spaces.
Presentation form: Creative space – lesson simulation
Creative spaces are spaces intended for the exchange and co-creation of various learning possibilities supported by ICT. It's learning where the roles of teachers and learners are intertwined and sometimes even switched.
There will be a "classroom" available with the capacity of 30 participants; in 45 minutes you will carry out a lesson, in which your participants will create materials, environments, learning activities in the way you did it with your learners. The learners/participants will bring their own devices.